Terms and abbreviations in telecommunications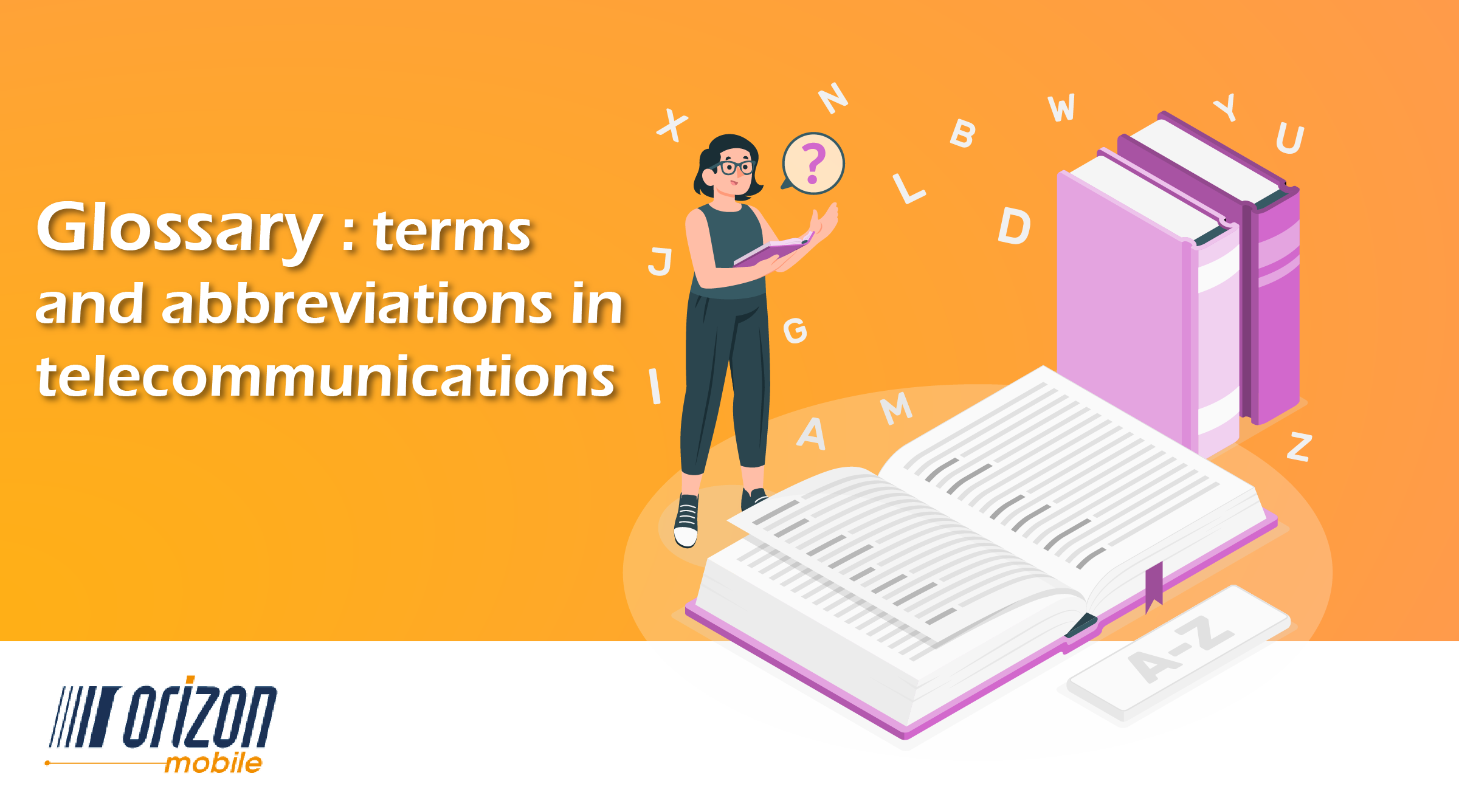 When shopping for a radio communication device, you may come across specific terms: LMR, PTT, P25… What does it all mean?
Here is a glossary explaining the most commonly used words and abbreviations in telecommunications!
---
ANALOG & DIGITAL
Digital radio is the transmission and reception of sounds transformed into patterns of numbers, or "digits" – hence the term "digital radio". In contrast, traditional analog radios transform sounds into electrical signal patterns that look like sound waves.
Digital radio reception is more resistant to interference and eliminates many of the imperfections of analog radio transmission and reception. However, there can be interference with digital radio signals in areas far from a station's transmitter.
BLUETOOTH 
Bluetooth is an open wireless technology standard for transmitting data from fixed and mobile electronic devices over short distances. Bluetooth was introduced in 1994.
Bluetooth technology communicates with a variety of electronic devices and creates personal networks operating in the 2.4 GHz band. A variety of digital devices use Bluetooth, including MP3 players, mobile devices and peripherals, and personal computers; wireless microphones, wireless headsets, PTT buttons, etc.
CSA 
The Canadian Standards Association (CSA) exists to develop safety and performance standards in over 57 areas including electrical and electronic equipment, industrial equipment, boilers and pressure vessels, compressed gas handling equipment, environmental protection and building materials.
These standards ensure a high standard of quality for our telecommunications products.
DMR 
The 𝘋𝘪𝘨𝘪𝘵𝘢𝘭 standard 𝘔𝘰𝘣𝘪𝘭𝘦 𝘙𝘢𝘥𝘪𝘰 is an international standard created in the early 2000s to provide an affordable, low-complexity digital standard to replace existing analog systems, which were lacking in functionality, voice quality, security and channel efficiency.
The great advantage of DMR technology is that it offers twice the capacity per channel, enabling optimized, secure and more reliable communications for business radio users.
This is because, it can transmit two communication channels for the same amount of space as an analog channel through the use of TDMA (𝘛𝘪𝘮𝘦 𝘋𝘪𝘷𝘪𝘴𝘪𝘰𝘯 𝘔𝘶𝘭𝘵𝘪𝘱𝘭𝘦 𝘈𝘤𝘦𝘴𝘴) technology, which divides a 12, 5 kHz channel into two independent channels, allowing for greater spectral efficiency.
Migration to digital is also simplified since the DMR is compatible with the 12.5kHz narrowband frequency of analog radios!
GPS
GPS, which stands for Global Positioning System, is a radio navigation system that allows land, sea and air users to determine their exact position, speed and time 24 hours a day, in all weather conditions, anywhere in the world.
IP 
IP is an abbreviation for Ingress Protection. It is a waterproof certification used by electronic device manufacturers that determines the resistance to dust and water. Two numbers follow these letters and describe, in order, the level of protection against dust (maximum 6) and the other against water (maximum 9).
ISO 
The ISO, or International Organization for Standardization, is a non-governmental organization of safety standards working in 167 countries. It is the largest standardization group in the world.
LMR 
LMRs, or Land Mobile Radios, are designed to be mounted in cars or boats for long distance communication.
Mobile radios typically have 60 watts of power, while professional handheld radios have only 4 watts of power.
Mobile radios are typically used by emergency first responders, public works agencies, or companies with large fleets and field personnel.
LTE
LTE (Long-Term Evolution) is a fourth-generation (4G) wireless standard that provides increased network capacity and speed for cell phones and other cellular devices over third-generation (3G) technology.
NXDN 
The NXDN (𝘕𝘦𝘹𝘵 𝘎𝘦𝘯𝘦𝘳𝘢𝘵𝘪𝘰𝘯 𝘋𝘪𝘨𝘪𝘵𝘢𝘭 𝘕𝘢𝘳𝘳𝘰𝘸𝘣𝘢𝘯𝘥) protocol, as implemented by Kenwood's NEXEDGE radios, is an FDMA (𝘍𝘳𝘦𝘲𝘶𝘦𝘯𝘤𝘺-𝘋𝘪𝘷𝘪𝘴𝘪𝘰𝘯 𝘔𝘶𝘭𝘵𝘪𝘱𝘭𝘦 𝘈𝘤𝘤𝘦𝘴𝘴) communication standard using advanced techniques in digital voice processing. Since interoperability is a key factor in NXDN, it is easy to operate between various communication systems. Thus, with NXDN, radios can operate in analog, digital or mixed mode without any problem!
This technology also offers many advantages, including better noise suppression and encryption of communications to ensure confidentiality, among others.
MCPTT 
Mission Critical Push-To-Talk is a telecommunications standard that PTT radio products operating on the LTE network must meet in order to be considered optimized for the needs of security organizations. Learn more in our article "What is MCPTT?
MULTIBAND 
A radio system is multiband when it supports multiple frequency bands. For example, FM radio is one band that can broadcast multiple stations. The same is true for AM. Amateur radio is also a benefit of a multiband system.
P25 
P25 is a suite of standards developed to provide digital voice and data communications systems tailored to the needs of public safety and first responders.
A key aspect of P25 is backward compatibility with existing equipment: P25 digital radios include an analog mode of operation that is compatible with existing FM radios, making it much easier to migrate your communications equipment from analog to digital!
POC, PTT, & GO MOBILE 
When we talk about Go Mobile's Push-to-Talk Over Cellular (POC) LTE solution, we are talking about our easy-to-use telecom devices that only require the push of a button to communicate on our LTE network.
To learn more about the Go Mobile benefits and our POC solutions, check out our article on the subject!
INTRINSIC SAFETY 
What do we mean when a product is described as "intrinsic"? In short, it is when a communication device cannot release a sufficient amount of electrical or thermal energy under normal or abnormal conditions. This prevents, for example, serious reactions from occurring if the ambient air in the workplace is flammable due to vapours or gases.
TETRA 
TETRA (𝘛𝘦𝘳𝘳𝘦𝘴𝘵𝘳𝘪𝘢𝘭 𝘛𝘳𝘶𝘯𝘬𝘦𝘥 𝘙𝘢𝘥𝘪𝘰) is a two-way digital mobile radio standard developed by ETSI (𝘌𝘶𝘳𝘰𝘱𝘦𝘢𝘯 𝘛𝘦𝘭𝘦𝘤𝘰𝘮𝘮𝘶𝘯𝘪𝘤𝘢𝘵𝘪𝘰𝘯𝘴 𝘚𝘵𝘢𝘯𝘥𝘢𝘳𝘥𝘴 𝘪𝘯𝘴𝘵𝘪𝘵𝘶𝘵𝘦). The purpose of the TETRA standard is to meet the needs of various entities such as public safety, transportation, government & military bodies.
There are several advantages to using TETRA! These include: wide geographic coverage with a few transmitters; stable, high quality audio performance; fast response time of less than half a second; gateway mode (the ability of a mobile to act as a network relay when the user is off the infrastructure); encryption of communications for increased security; interoperability… and more!
TWO-WAY RADIO 
A two-way radio is a handheld device or transceiver that can both transmit and receive voice communications.  Broadcast environments use receivers, which means that voice communications can be received, but not transmitted. Other terms used for two-way radios are: walkie-talkies or handheld radios.
The three types of two-way radios are: handheld, mobile and stationary or base station. Handheld radios have a power rating of 0.5 to 5 watts, while LMR and base stations have a power rating of up to 60 watts.
UHF 
UHF radios (𝘜𝘭𝘵𝘳𝘢 𝘏𝘪𝘨𝘩 𝘍𝘳𝘦𝘲𝘶𝘦𝘯𝘤𝘺) are generally conducive to being used inside buildings since the waves, which are shorter, have a better ability to penetrate metal and concrete. They have the advantage of having a large availability of frequencies in addition to having a stable coverage. The antennas are also small. They broadcast between 300MHz and 3GHz. The LTE network operates on UHF frequencies.
VHF 
VHF radios (𝘝𝘦𝘳𝘺 𝘏𝘪𝘨𝘩 𝘍𝘳𝘦𝘲𝘶𝘦𝘯𝘤𝘺) have the advantage of being effective outdoors, over a long distance; FM broadcasting is an example. Their excellent coverage as well as their good stability, with a reasonable level of interference, make them good radios for regions. However, in urban areas it is possible to encounter dead zones. This frequency range is also very congested. These radios broadcast between 30MHz and 300MHz.
-Alek Germain, marketing coordinator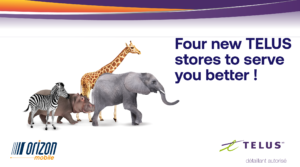 It is with great excitement and pride that we announce today the acquisition of 4 new TELUS branches, located in Mont-Laurier, Laval, Ville Saint-Laurent and Pointe-aux-Trembles! Our overall corporate presentation…
Lire la suite