iPhone 13: An even more advanced camera system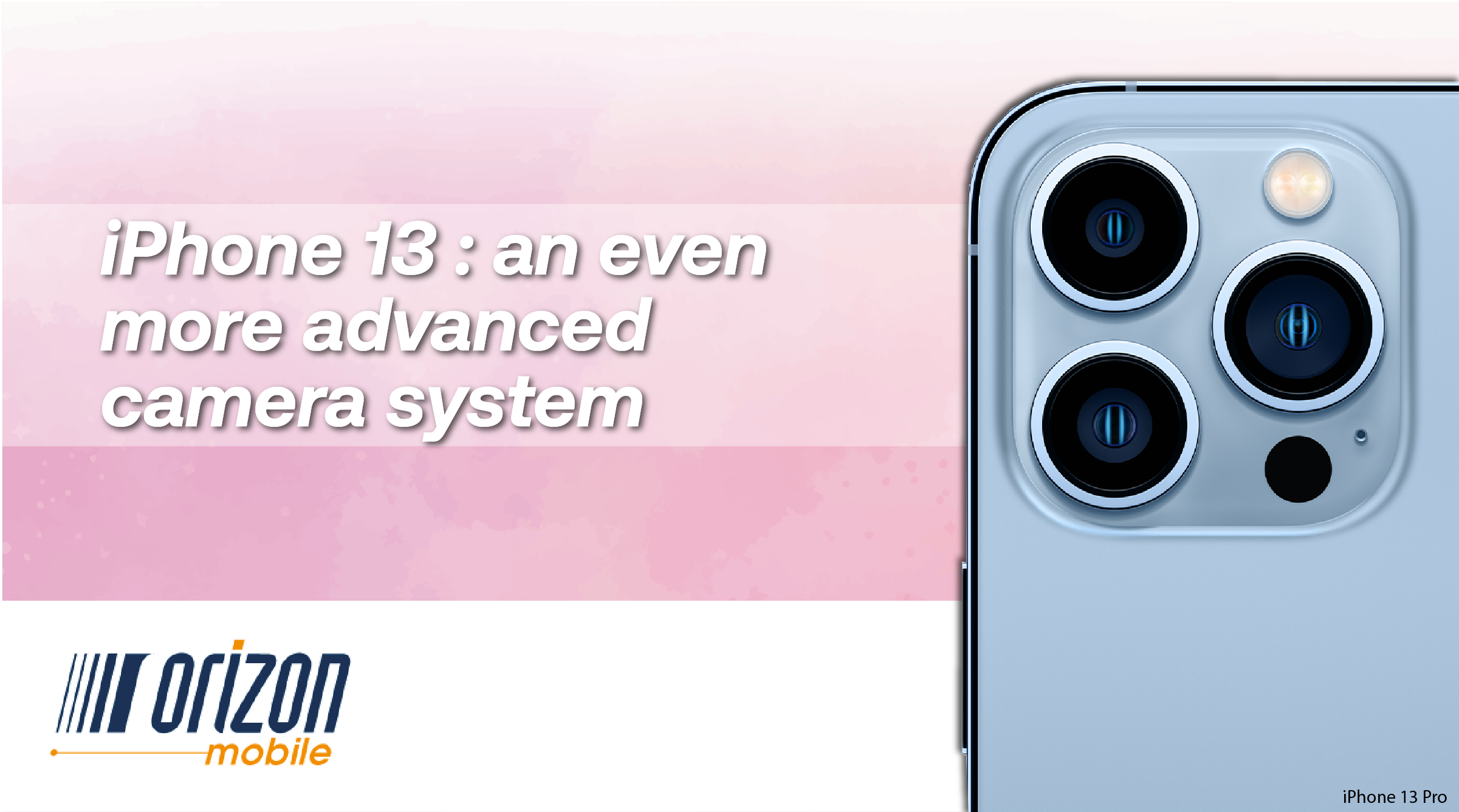 Apple hasn't gone halfway with the camera system on the iPhone 13. They claim that this is their "best dual-camera system and largest wide-angle sensor to date". Their new ultra-wide-angle camera is even capable of capturing 47% more light; this means more detail will show up, no matter how bright your surroundings are.
What other camera features does Apple bring to us with their newest release?
---
Videos worthy of a filmmaker
First of all, let's talk about CINEMA. Or rather, high quality videos that you will be able to produce!
Apple is using artificial intelligence and the power of the A15 Bionic processor to automate a special film technique that's so important to the art of filmmaking : the depth of  field effect. With what Apple calls the Cinematography mode, you can add focus transitions and the aforementioned depth of field effect to your videos.
In a movie or TV show, when the camera is pointed at an actor and holds the audience's attention, it can be clearly defined while the back of the image is blurred. And, when someone else enters the scene, the attention shifts to that person, thus changing the focus of the camera. On iPhone 13, the camera is able to automatically adjust the focus to give your video a stunning cinematic effect with ease. The focus can also be adjusted in the video editing to perfect its appearance, if necessary.
You can also enjoy realistic color contrast with the ability to shoot your favorite moments in Dolby Vision HDR. This feature works exclusively in 1080p at 30fps.
---
A mode for all tastes
When it comes to taking pictures, IPhone 13 has all the features of its predecessor, and more. Night mode adjusts your photos, so they look better even when taken in low light; Portrait mode adds a blur behind you; Intelligent HDR 4 detects up to four people in a photo and optimizes color and contrast while maintaining realistic skin tone; Deep Fusion, an artificial intelligence image processing system, uses machine learning to optimize image detail when lighting is suboptimal, so your photos will remain clear and detailed; need to see more? The ultra-wide-angle camera expands the field of view of your scenes; the Memories feature creates slideshows from your photo collection and even lets you add music from your music library; iPhone 13 also introduces Photographic Styles, a series of filters that accentuate or subdue colors while designing skin tone.
---
iPhone 13 Pro and Pro Max: an extra camera
The iPhones Pro and Pro Max include an extra camera with a telephoto lens that allows it to zoom in up to 15 times, which is perfect for taking pictures up close.
---
TrueDepth: security is assured
For biometric authentication purposes, the iPhone 13 series uses Face ID, the facial recognition system that was first introduced in 2017 with the announcement of the iPhone X.
Face ID is used in all iOS tasks to unlock the iPhone, allow access to code-protected third-party apps, confirm purchases and authenticate payments through Apple Pay.
Face ID works with TrueDepth technology: a dot projector projects more than 30,000 invisible infrared dots onto the skin's surface to create a 3D facial scan that maps the curves and planes of each face.
The facial depth map is relayed to the A15 Bionic chip where it is transformed into a mathematical model that the iPhone uses to authenticate your identity. Face ID works even in low light and is able to recognize the user even if they are wearing glasses, a hat, and even if they have grown a beard!
---
The last word
The camera system of the iPhone 13 series is definitely full of features that will make you the most famous and revered photographer in your family!
Interested in this phone? It's a good thing it's available now on Toncell.ca and at our TELUS stores!
– Alek Germain, marketing coordinator
Radio communication is the ideal tool to efficiently manage events of all kinds. We know all about it! Each year, Orizon Mobile is the partner of more than 300 events…
Lire la suite