The iPhone 14 series is here!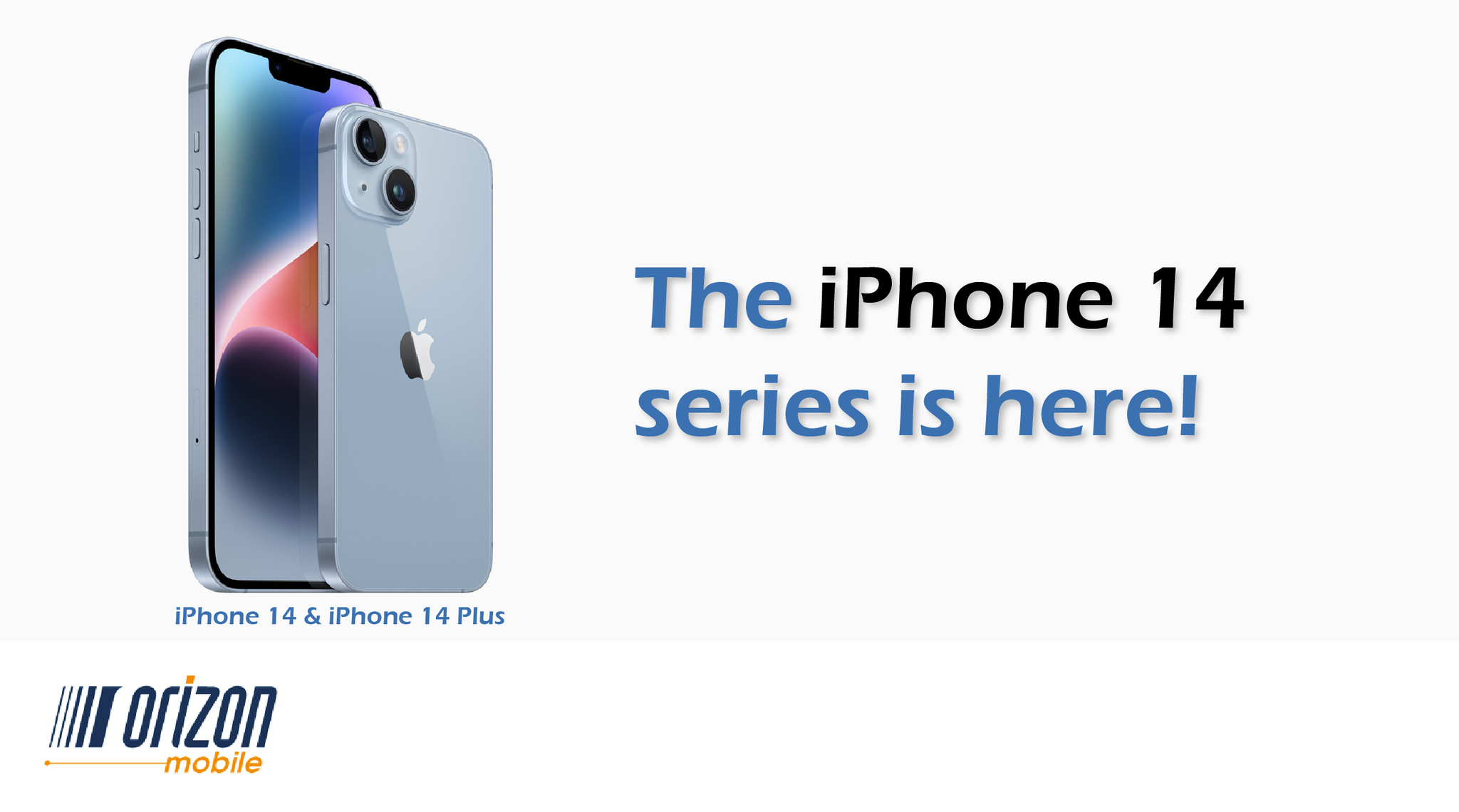 The iPhone 14 series is now available to the public. Four models exist : iPhone 14, iPhone 14 Plus, iPhone 14 Pro and iPhone 14 Pro Max. 
What do Apple's newcomers bring to you? Here is a brief overview!
  
Clarification of the various models
Let's group them into two groups: iPhone 14 and iPhone 14 Plus on one side, iPhone 14 Pro and iPhone 14 Pro Max on the other.
The technical specifications of the devices within each group are identical, except for the screen size: the iPhone 14 and iPhone 14 Pro have a 6.1-inch screen while the iPhone Plus and Pro Max have a 6.7-inch screen.  Think of it as two different phones, but each with the option of a large display!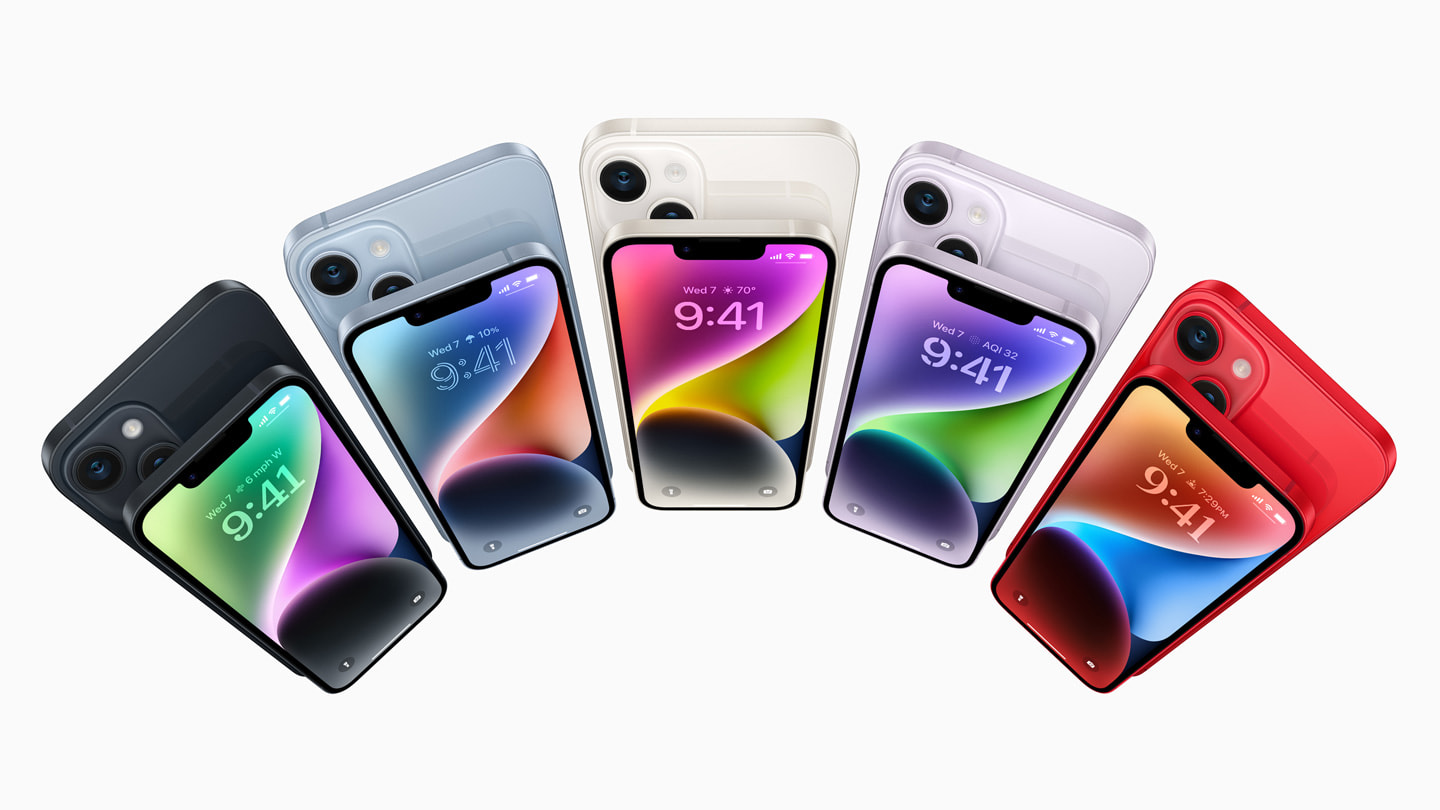 An elegant and durable design
That's what Apple promises with its aluminum shell and their new ultra-resistant glass called Ceramic Shield, exclusive to iPhones. All phones are equipped with their Super Retina XDR OLED display, giving you high contrast.
The iPhone 14/Plus offers a brilliant screen, capable of reaching 1200 nits in HDR with a refresh rate of 60hz. Need even more brightness? The Pro/Pro Max have a bright screen up to 2000 nits*, with a variable 120hz refresh rate!
On the software side, iPhone 14 is the entry point to iOS16, which "incorporates a completely redesigned lock screen as well as new smart, sharing and communication features that together transform the iPhone experience."
The iPhone 14 series introduces Dynamic Island (see image below), a rich and enjoyable new way to interact with activities, alerts and notifications.
*Nits: Unit of measurement for brightness. With HDR (High Dynamic Range) content, the higher the number of nits, the higher the brightness level of certain elements in the image, providing the best experience. Imagine a light glowing really brightly in the dark, for example!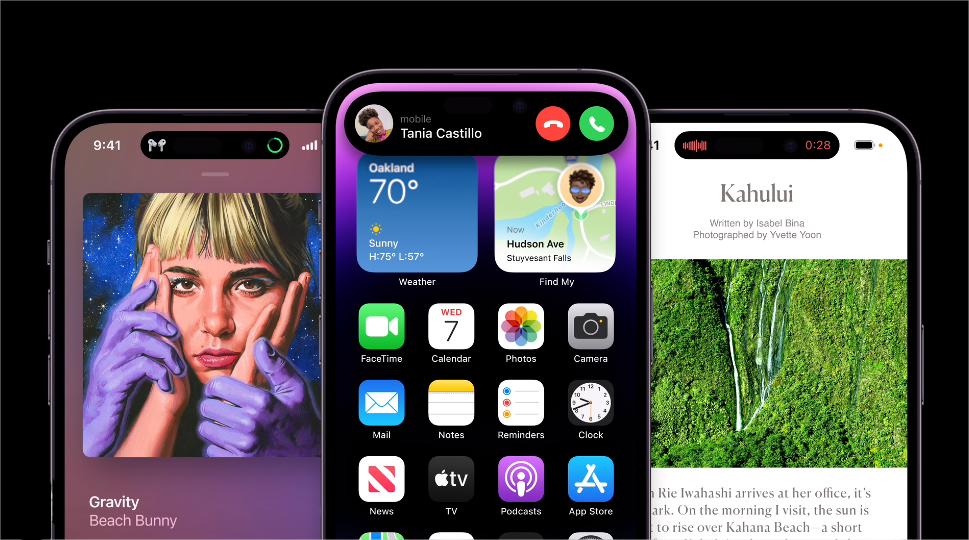 A powerful camera system
The iPhone 14 and 14 Plus have an identical camera system, with a 12MP front camera and two back cameras: a 12MP wide camera and a 12MP ultra-wide camera, the latter two having a faster aperture than the iPhone 13.
As for the iPhone 14 Pro and Pro Max, the rear camera lenses have increased in size with a 48-megapixel sensor, which is four times larger than the 12MP sensor used on iPhones since 2015! In addition to the increase in detail, this allows for a new 2x telephoto mode.
With all models, expect to shoot high-quality video with Cinematic Mode, which offers 4k at 30 or 24 frames per second. With Action Mode, you can even stabilize your videos.
The Photonic Engine, which makes its debut in the iPhone 14 series, is a technology that uses artificial intelligence to fine-tune your images and videos.
All cameras of course have Night Mode, allowing you to get the most brightness out of your photos in the dark. New for iPhone 14, the front camera is also equipped with autofocus.

Groundbreaking emergency functions
The iPhone 14 series offers impressive safety features. With Accident Detection, your phone is able to recognize a serious car accident and automatically contact emergency services if the user is unconscious or away from the device. This works through a combination of internal tools working in concert: the iPhone 14's gyroscope, accelerometer, barometer, GPS and microphone. This function can even be combined with the Apple Watch.
Are you hiking or working outside traditional wireless network coverage areas? The Emergency SOS satellite feature gives you peace of mind in an emergency. When SOS Emergency is activated, the phone asks you a few questions to assess your condition, then sends your contact information to emergency services. Think of it as a great version of Locate My iPhone!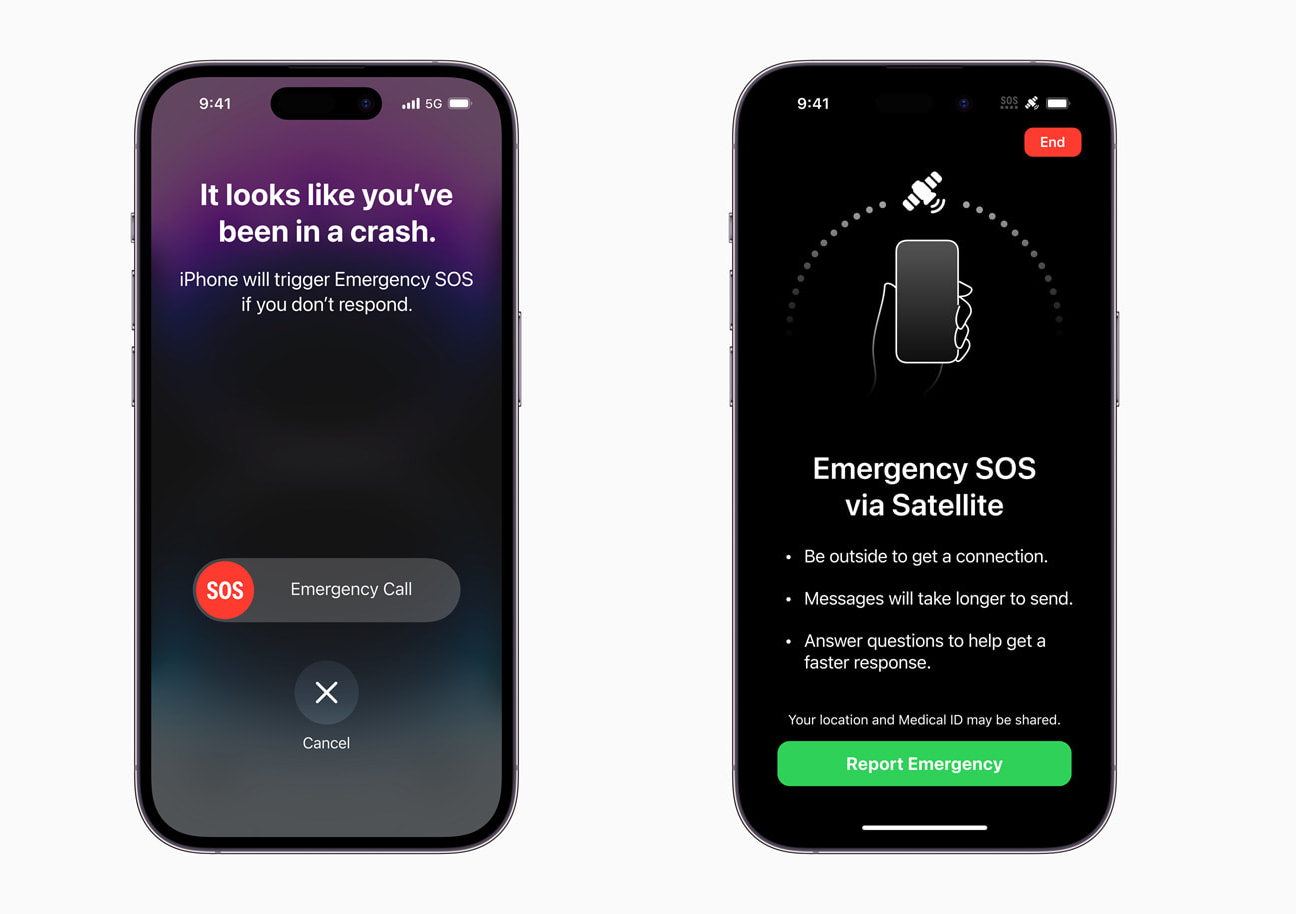 High-speed processors 
One of the biggest differences between the iPhone 14/Plus and the iPhone 14 Pro/Pro Max is their processors. Inside the iPhone 14/Plus, you will find the powerful A15 Bionic, the same CPU found in last year's iPhone 13 series. This one is still very powerful and is able to run your applications without any problem.
The iPhones 14 Pro/Pro Max are equipped with the latest A16 Bonic processor. Apple claims that it is about 40% more powerful than the competition. Its graphics processor performs with 50% more memory bandwidth than its predecessor.
---
The final word
Are you an iPhone fan? Get one of the iPhone 14 series phones in one of our TELUS stores or at Yourcell.ca!
-Alek Germain, marketing coordinator
Radio communication is the ideal tool to efficiently manage events of all kinds. We know all about it! Each year, Orizon Mobile is the partner of more than 300 events…
Lire la suite